Language
Written language: English
Spoken language: Arabic - Lebanon
Essentials of Clinical Pharmacy Practice
You can watch a preview of this course by clicking on the first 3 videos in the curriculum below.
You will receive a certificate of completion upon completing the course.
Course Details
The duration of the course is 2 hours.
Course Description
This course is designed to provide you with an overview of "Clinical Pharmacy", one of the highest recommended jobs in the healthcare field. After completing this course, you will be able to understand the role of a clinical pharmacist and the environment in which he works. Many practical examples will be presented without neglecting the current impact of Covid19.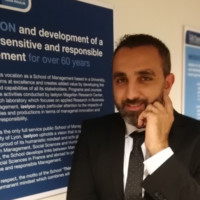 Hi, I'm Youssef Akiki
Youssef N. Akiki is a chief hospital pharmacist since 2005, with a PharmD, Master in Pharmacology, a Diploma in Clinical Pharmacy, Pharmaceutical MBA and a Doctorate in Business Administration (DBA) degrees. He has been devoted to explore and develop the clinical pharmacy in his work beside other managerial projects. He is also a researcher, mentor and consultant and he believes that sharing knowledge is an essential tool for continuous improvement.